Online store
We collect your parcel from the online store
Okay – you have placed your order. The online store gets to work straightaway. It all starts with the packaging: it needs to tightly wrapped around the product and contain as little air as possible. The less air we transport, the lower the CO2 emissions are per parcel. The sender then either brings your parcel to one of the 4,000 DHL ServicePoints, or DHL collects your order by truck from the online store. More often than not, we use an electric vehicle: since 2022, we use electric box trucks in the Amsterdam region. Where possible, other trucks are run on HVO100, which is a sustainable diesel fuel.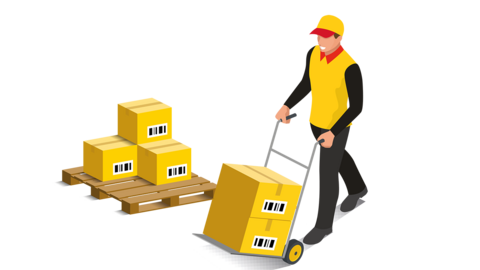 Sorting center
We sort your parcel
Your parcel has been collected – it's time for sorting. This usually takes place in one of the four national sorting centers: Amsterdam, Zaltbommel, Dordrecht, or Utrecht. We also sort parcels in one of our fourteen regional hubs that are spread right across the country. These national centers are extremely sustainable and comply with the strictest BREEAM standards. For example, we use as little electricity as possible and generate it ourselves using the solar panels installed on the roofs. The environment means a lot to us, and so do our employees. All our locations can be easily reached by public transportation or by bicycle.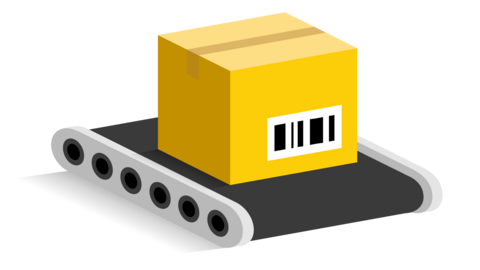 Cityhub
We take your parcel to one of our 131 CityHubs
After being sorted, your parcel then travels on to one of our 131 CityHubs. Each of these is within easy reach due to being near city centers or because they are centrally located in rural areas. Each big city has two to five CityHubs. Because there are so many, your parcel's route is as short and efficient as possible. That's sustainable: we don't need to drive large delivery trucks around that produce a lot of CO2. We prefer to use smaller delivery vans and therefore can increase our electric fleet faster than other companies. Entire fleets of electric vehicles are becoming the norm at CityHubs. That's the reason we are champions in using electric vehicles and we're really proud of that!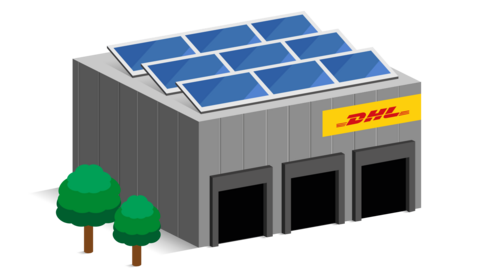 Courier
We're en route with your parcel
Your parcel's almost there! It's our courier's turn to start their journey. In this respect, we're also taking the environment in consideration and drive electric vehicles. More than half of our vehicle fleet is electric and soon that will be increasing. We are increasingly switching delivery vans that aren't electric to HVO100 fuel. While you may not see this change, it's extremely sustainable. What's more: we make our journeys as efficient as possible. Your courier stops dozens of times each hour to deliver a parcel. In every street in the Netherlands, we stop on average at four addresses, and in Amsterdam that number is seven.
Delivery
You choose how you want your parcel delivered
The time has come to receive your parcel. If you know you're not going to be home, select your favorite alternative delivery option in the My DHL app or via track and trace. It's easy to change the day or time. You can also choose for your parcel to be put in a safe, agreed place – this could be your garden shed. We can also deliver your order to a DHL ServicePoint just around the corner. Now that's a really efficient option – our courier can deliver several parcels there in one go, minimizing the number of stops we need to make in your neighborhood. If you too want to help, walk or go by bicycle to collect your parcel.
Follow your parcel in the My DHL app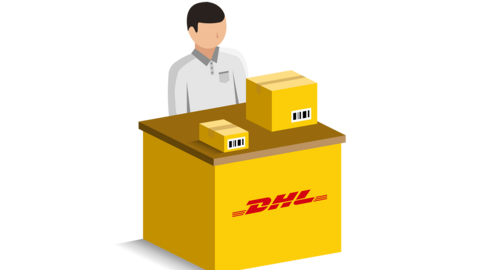 Frequently asked questions
What is HVO100 diesel fuel and what are the BREEAM sustainability standards? We're more than happy to explain!
What is HVO100?
HVO is a sustainable diesel fuel that is manufactured from waste, residual oils, and fats. Slowly but surely, renewable sources from which a diesel fuel can be made, are being supplemented. Although HVO has a similar chemical composition as fossil fuel diesel, CO2 emissions are up to 90% lower. HVO100 is HVO in its purest form and therefore isn't mixed with other fuels.
What is BREEAM?
DHL eCommerce along with its dedicated partners are building 26 new sorting centers from which we will deliver parcels quickly and sustainably. We are building according to the strictest international sustainability standards. BREEAM-NL Outstanding. If you are interested how that works, here we explain it to you using some different examples.
DHL GoGreen
Stronger together
DHL eCommerce is making huge strides in terms of sustainability. An impressive 70% of our delivery vans are already electric or run on HVO100 (a renewable fuel), and we're striving to deliver every order the first time. It's convenient for you, as it saves us having to make an extra trip to your area. And it's good for the planet, as it reduces emissions. If you ship something, we offset your parcel's CO2 emissions at no additional cost.
More about DHL GoGreen