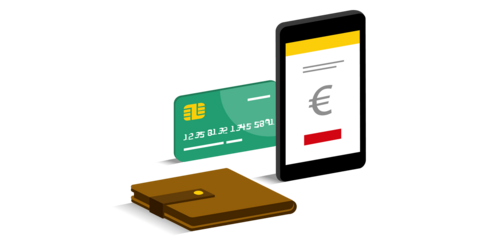 Our envelope rates and options
You can send your envelope for as little as €2.95. All you have to do is create a shipping label on paper or digitally and take it to a DHL ServicePoint. Would you rather send the envelope directly to a residential address in the Netherlands? That costs €3.45. You can easily follow its progress using track and trace online or the My DHL app. That way, you'll know exactly when it arrives at the DHL point or lands on the doormat.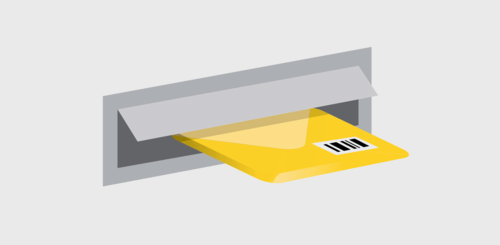 Size and weight of your envelope
Colored, printed, with bubbles or something in between – the choice of envelopes is mind-boggling. What you have to bear in mind is the envelope's weight and dimensions. Make sure your envelope is not smaller than 10 cm long and 15 cm wide, and not bigger than 38 cm long, 26.5 cm wide and 3.2 cm thick. Watch the weight too: it should be between 50 and 500 grams. If your envelope is within these dimensions, then you can rest assured that it will fit through all mailbox openings. 
This is how to send an envelope
Thick or thin, A4 or A6: You can send an envelope just like that. This is how you do it:
Your shipment will get where it needs to be in one piece if it's in a strong envelope that is the right size. 
If you're sending something fragile, then go for an envelope lined with bubble wrap. Extra protection, extra safe! 
If you're sending a thin book or a set of documents, then a standard envelope is fine. 
Whatever you decide to go for: Make sure it's properly sealed. Scotch tape or paper tape does the trick, and makes sure your envelope arrives at its final destination in perfect condition.
Sending an envelope online
Once your envelope is ready to go, then prepare your shipment in My DHL Portal. As soon as you've paid, you can print your shipping label and stick it on the envelope. Then drop off the envelope with its shipping label at a DHL ServicePoint. Don't have a printer? You can have the QR code scanned at your favorite DHL ServicePoint. We'll do the rest!
Ship now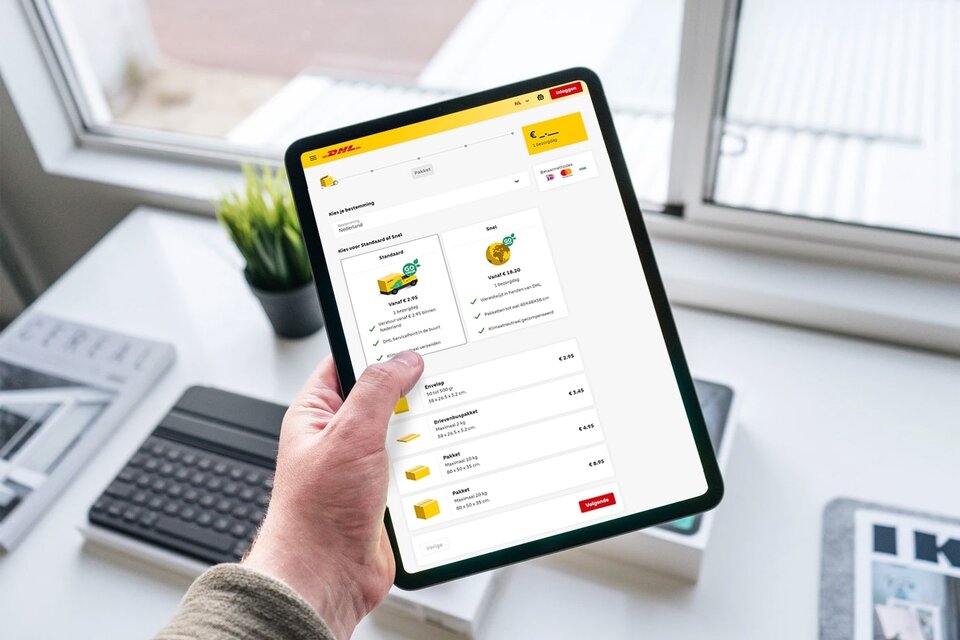 On top of your envelope
Want to know where your envelope is? You can follow it online via track and trace. You can do so using the link we send you, or using the My DHL app. Simply look up your shipment and you'll see exactly what its status is. Before you know it, it'll be in the mailbox or at the DHL ServicePoint you chose. The recipient doesn't have to stay at home for it, and we'll be transporting a little less fresh air. An envelope: the perfect solution!
Download the My DHL app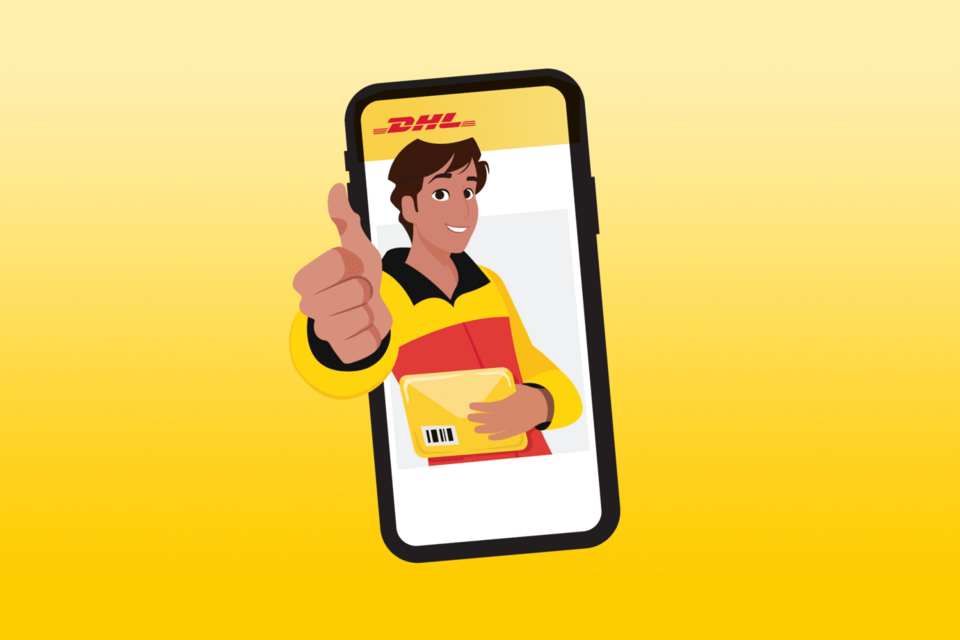 Can I send envelopes?
You can send envelopes very easily with DHL eCommerce. Using My DHL Portal, you can create a shipment in a few simple steps. It works exactly the same as shipping a letterbox parcel. Please note that you cannot send postcards or letters. You can find which other goods you are not allowed to ship here. 
What is the maximum weight and size of my envelope?
Your envelope may weigh between 50 and 500 grams and the maximum dimensions are: 38 cm long, 26.5 cm wide and 3.2 cm high. Make sure it is not smaller than 10 cm long and 15 cm wide. That way the shipping label can be stuck on properly with the barcode on one side. The label may be folded over, but the barcode should not have any wrinkles or creases. This way it remains easily readable.
What does it cost to send an envelope?
Send an envelope using DHL eCommerce for as little as €2.95. Simply create a (online) shipping label and have your envelope delivered to a ServicePoint. If you send it to a home address in the Netherlands, it costs €3.45. You can also buy a shipping label locally - then you pay €1 extra. 
What am I allowed to send in an envelope?
With envelopes you can easily send small and light products that do not require a mailbox parcel. Cables and key rings, for example, but also magazines and booklets. For these, an envelope is an ideal and sustainable solution. Please note that shipping of some goods is prohibited. Check here what you can and cannot ship with DHL Ecommerce.
Can I buy envelopes at a DHL ServicePoint?
No, we do not sell envelopes at our ServicePoints.