Smart and fast
The DHL Locker near you is the best way to send or pick up your parcel. They're accessible day and night, so no more waiting at home for a delivery. You even have a whole week to pick up your parcel.
My DHL Locker is full. What can I do?
Our DHL Lockers are emptied twice a day from Monday to Saturday. However, it is possible that a locker is full. 
Receiving a parcel
Should your parcel be delivered in a DHL Locker which turns out to be full, we will move to an alternative DHL point nearby. We will inform you about this by e-mail or with a nofication in the My DHL app. You will also find this new location on track and trace. 
Sending a parcel
Do you want to send a parcel using a DHL Locker and does it turn out to be full? Find another locker or DHL ServicePoint nearby.
I don't have a code to collect my shipment from a DHL locker
If you don't have the code to collect your parcel from a DHL locker, please go through the following step-by-step plan.
1. Check your spam
Check your email junk folder. The email with the collection code sometimes ends up in your spam.
2. Double check the location
Check whether your package has really been delivered to the locker. It is possible that our courier has moved to another (manned) DHL ServicePoint. For example, because the locker had a malfunction, or because there was no compartment available to fit your shipment. Therefore, please take a good look at track and trace to see at which collection point your parcel is located. For a manned DHL ServicePoint you do not need a pick-up code.
3. Contact customer service
Was your shipment delivered to a locker and was the code not in your spam? Then please chat with our customer service. Make sure you have the shipment number at hand. Our customer service will make sure you receive a pick-up code as soon as possible.
I shipped a parcel using a DHL Locker, but I did not receive a receipt. What can I do?
If you send a parcel using a DHL Locker, you will receive a receipt by e-mail or text message. Check your spam to make sure the receipt didn't end up in your unwanted e-mails. You can also track your shipment via track and trace or the My DHL app. 
Didn't receive a receipt? Please contact customer service.
I've closed the locker and my parcel is still inside. What should I do?
If you're quick, you'll be able to open the locker again with the same code. If not, call our contact center to re-activate your code.
I cannot use my DHL Locker due to a technical failure. What can I do?
If you can't use a DHL Locker because of a technical failure, please contact customer service. We are happy to help you.
Where's my nearest delivery point?
You can send your parcel from a DHL store or leave it in a parcelstation to be sent later. With 4000 points in the Netherlands, there's sure to be one near you. Find your DHL ServicePoint.
Collect parcels at a DHL Locker
Once the DHL courier has put your parcel in a locker, you'll receive a text or e-mail with a pickup code. You then have one week to pick up your parcel at any time of the day. Once you're at the locker, enter your code into the display and the parcel is yours! If something is not working correctly, or if you haven't received a pick up code, please contact us.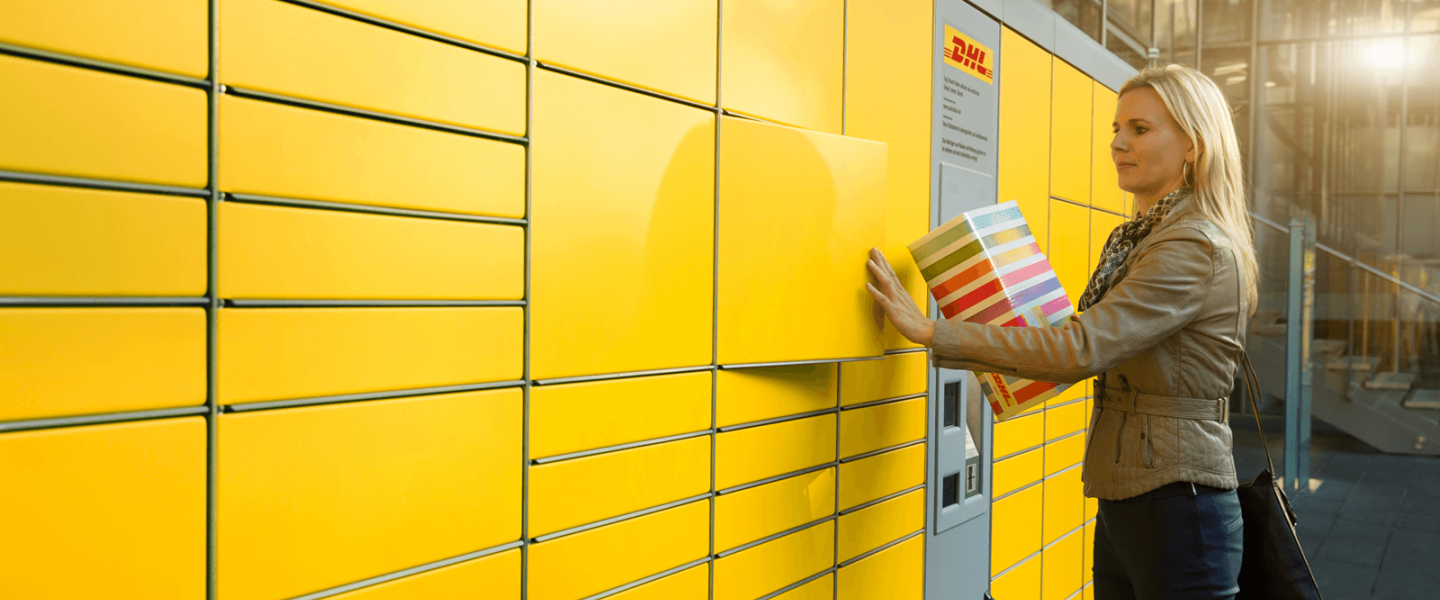 Your choice
In addition to being the place to pick up online orders, you can also arrange for a parcel you missed to be sent to the parcelstation using the info on the "missed DHL delivery" card. You can even log in to My DHL Portal online and send parcels from this smart yellow wall digitally.
Find your DHL point