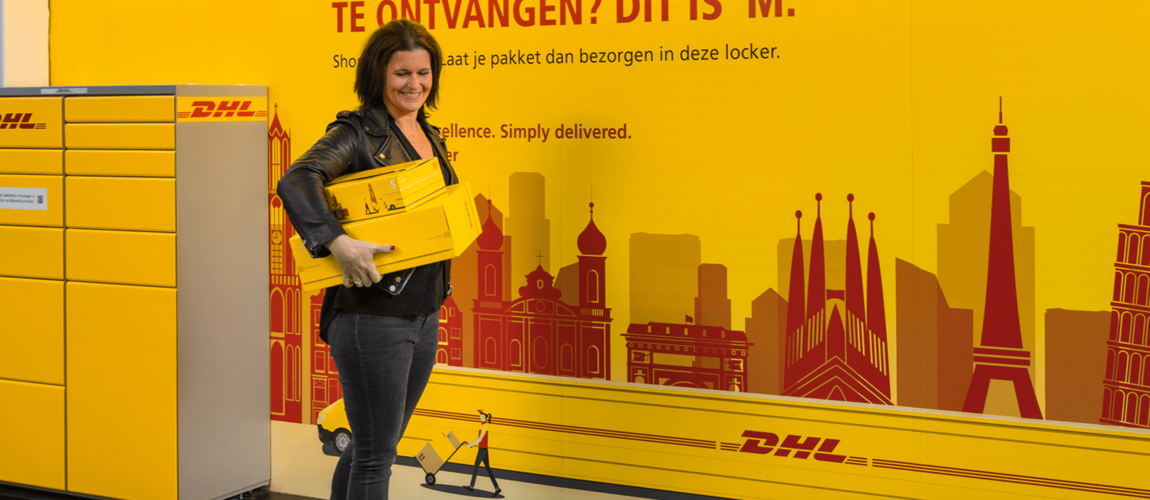 DHL Parcel introduces the DHL Locker, a new compact parcel locker wall. In various places in the country there are the DHL Lockers where recipients can pick up their packages by opening a locker with their smartphone. The DHL Locker is the more compact version of the DHL Parcelstation that DHL Parcel already uses in the Netherlands, Germany and Austria. Compared to that, the new locker takes up less space, making it easier to find a place in shops, shopping centers and office and school buildings. The DHL Locker was designed and built by DHL in collaboration with Capgemini and product developer Polygon.
"DHL is at the forefront of providing innovative delivery options to provide consumers with optimal service. This Locker fits in perfectly with that," says Wouter van Benten, CEO of DHL Parcel in the Benelux. The recipient indicates when ordering in a webshop that he or she wants to receive the package in a DHL Locker. The recipient then receives a unique code via SMS or e-mail. Using the free DHL-Locker app, which is available in the Android and Apple app store, the recipient then uses his smartphone as a remote control to open the locker.
DHL IS AT THE FOREFRONT OF PROVIDING INNOVATIVE DELIVERY OPTIONS. THIS LOCKER FITS PERFECTLY WITH THAT
Wouter van Benten, CEO DHL Parcel Benelux
To test the new vault wall, DHL Parcel is focusing on places where many consumers gather, such as shopping centres and public transport points. The first DHL Lockers are located in the following places: the Kronenburg shopping centers in Arnhem, Koperwiek in Capelle aan den Ijssel, De Hoven Passage in Delft, Sterrenburg in Dordrecht, Shopping center in Etten-Leur, the Formido stores in IJsselstein (van Leeuwenhoekweg) and Rotterdam (Bergweg), Piet Spoed in Landgraaf and in the RET Metro Voorschoterlaan in Rotterdam.
The new DHL Locker and app are the result of a collaboration between DHL, Capgemini and Polygon. "What made the difference in this development was the 'agile' approach; in just eight weeks we went from concept to first prototype," says Mark Ix of Capgemini. The experiences in the Netherlands will be used to optimize the new vault wall, after which it will be decided on expanding the number of locations in the Netherlands and rolling out to other European countries.  
Customers increasingly want to take control of the delivery of their package.  In addition to parcel lockers, DHL meets the customer by choosing time windows and delivery to a DHL ServicePoint and there are pilots with delivery in a parcel mailbox at home and in the trunk of a car.