Got too much to print? Always running out of ink? Or got no printer at all? You can now send parcels easily with your phone using a QR code. But what about your old printer? Well, you could always use it as a bread bin.
How it works
Everyone can ship with DHL from only €2.95. And you don't even need a printer!* You can create a shipping label online in no time. Or get the QR code scanned and we will print it for you. Just select the 'No printer at home' option. Drop off your parcel at your local ServicePoint. Then we'll do the rest. *This service applies to parcels within the Netherlands. Are you a business customer with us? Then you will still need to print labels yourself.
Send your parcel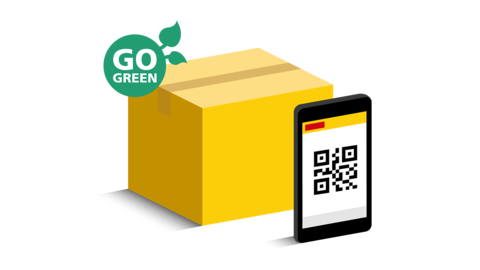 Competitive rates
We ship within the Netherlands for as little as €2.95 and internationally for €10. DHL provides affordable excellence. View our options and rates per country.
Calculate the costs
International shipping
Sending a parcel internationally? DHL is a true globetrotter. Wherever your parcel needs to go, our reliable shipping service will get it there. For international parcels, you still need to print out a label yourself.
International shipping
Packaging advice
Although our drivers take good care of your parcel, we always appreciate a helping hand. Here are some golden tips for packaging your parcel. So, you can make packaging a breeze.
Read the tips
DHL business account
Send over 30 parcels each month?
If you send more than 30 parcels on average each month, join DHL Business for business-friendly benefits, such as online store integration and pick-up service. Print your shipping labels yourself, and our automated service will get things done quicker than you can blink. Set up a business account to discover the great rates on offer.
Benefits of DHL business
We helpen je natuurlijk van harte, en het liefst razendsnel. Daarom staan de meest voorkomende vragen en antwoorden hier op 'n rij.
Where's my nearest delivery point?
You can send your parcel from a DHL store or leave it in a parcelstation to be sent later. With 4000 points in the Netherlands, there's sure to be one near you. Find your DHL ServicePoint.
When will DHL deliver my parcel?
If you're sending your parcel to a Dutch address, it'll normally arrive the next day, provided you dropped off the package in time. Due to busy times your shipment may take longer to reach its destination. International transit times depend on the destination country.
How will I know when my parcel has arrived?
Use track and trace to pinpoint your parcel in the Netherlands at any time of the day. Use international track and trace to follow other parcels. Make sure you have the shipment number and the recipient's postal code, so we can tell you exactly where your parcel is. We'll e-mail you as soon as your parcel has been delivered.