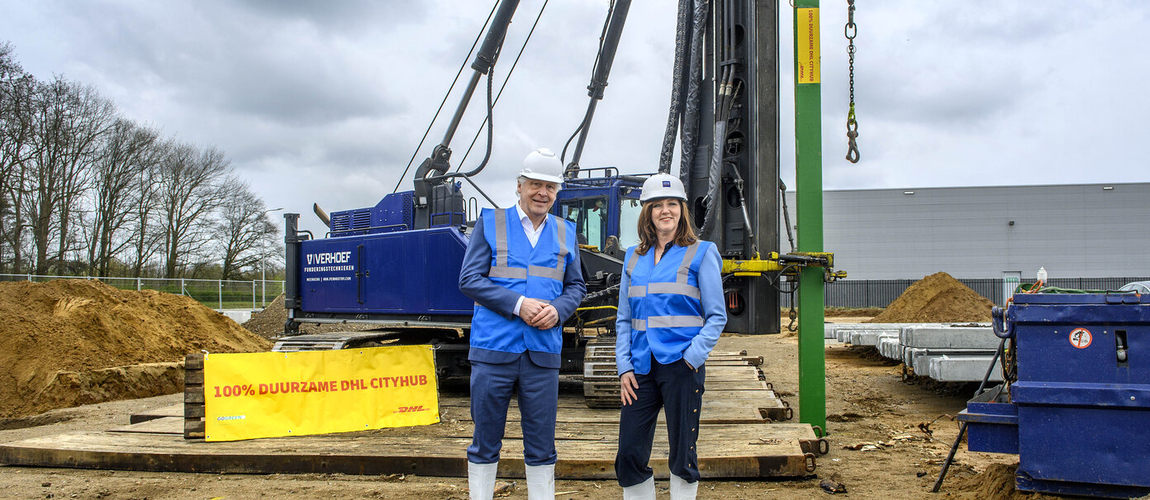 With the striking of a green pile, the construction of the climate-neutral DHL Parcel CityHub for Roermond and surroundings has started. It is the ninth of 26 new CityHubs to be built in the Dutch network of a total of 140 local branches. The local hub in Roermond will be located at Schepelstraat 18 near the N293 and the Keulsebaan with good supply and discharge via the A73 and A2 and also easy access roads to the city. Commissioning is scheduled for the end of October 2022. The CityHub is the workplace of more than 200 delivery drivers and every day there are 90 routes along households, shops and businesses in and around Roermond. This is often done with electric vans and by 2025 at the latest completely emission-free. 
The start of construction took place in the presence of Angely Waajen - Crins, alderman for economy, spatial planning and public housing in the municipality of Roermond: "The growth of the economy must go hand in hand with the responsibilities we have for future generations. The CityHubs initiative is a step in the right direction." This will be the second CityHub in Limburg; the first will open at the end of June in Sittard-Geleen. 
THE GROWTH OF THE ECONOMY MUST GO HAND IN HAND WITH THE RESPONSIBILITIES WE HAVE FOR FUTURE GENERATIONS. THE CITYHUBS INITIATIVE IS A STEP IN THE RIGHT DIRECTION.
Angely Waajen - Crins, alderwoman for economy, spatial planning and public housing, municipality of Roermond
26 new build DHL CityHubs
The 26 new CityHubs to be built are part of a network of 140 branches. The CityHubs are located on the edge of all urban areas, allowing the 'last mile' to be carried out in the most efficient and sustainable way. On a CityHub, an average of 90 trips depart per day, of which 60 during the day and 30 in the evening, with short routes with 100 to 200 addresses. Short routes enable rapid sustainability because they can be carried out with electric vans, cargo bikes or other small vehicles. All new construction – including this CityHub in Roermond – takes place according to the highest sustainability standards of BREEAM. The buildings are gas-free, equipped with solar panels and are driven with a fully electric fleet. This investment is part of an extensive programme of 350 million euros.  
The 26 new CityHubs to be built will be located in the following places:
Almelo, Almere, Amsterdam-West, Amsterdam-Oost, Amsterdam-Zuid, Apeldoorn, Breda, Den Haag, Ede, Emmen, Sittard-Geleen, Gouda/Waddinxveen, Groningen, Haarlem, Helmond, Hendrik Ido Ambacht, Hoofddorp, Leeuwarden, Leiden, Nijmegen, Roermond, Rotterdam, Tilburg, Utrecht, Zaandam, en Zoetermeer.